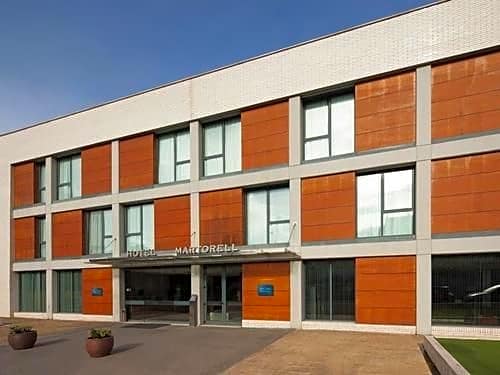 Idyllically positioned in the Penedes Wine region of Martorell, Hotel Ciutat Martorell is near the train station, major universities, as well as spectacular monuments. This four-star establishment is also in proximity to an extensive array of alluring attractions such as Hospital Sant Joan de Deu, L'Enrajolada - Santacana House Museum, Camp Nou, Circuit de Catalunya, Fira Barcelona, and Placa d'Espanya.

Accommodation
Together with a minimalist aesthetic, luxurious guestrooms of Hotel Ciutat Martorell house a staggering selection of useful amenities including premium satellite channels, minibar, wireless Internet access, functional desk/workspace, in addition to air conditioning with climate control. What's more, extras in the form of blackout curtains, handheld showerhead, hair dryer, along with free toiletries and newspaper come as standard while windows that open to striking city views contribute to the overall appeal. Upon request, complimentary cribs/infant beds are obtainable for temporary use. Proficient housekeeping is provided daily.

Hotel Facilities
Each morning, Hotel Ciutat Martorell offers delicious buffet-style breakfast in the contemporary dining room while fresh coffee/tea is presented in the chic lobby throughout the day. Additionally, a number of invaluable on-site features promote a productive stay — namely spacious banquet facilities, top-notch health club, dry cleaning/laundry service, not to mention knowledgeable, 24-hour front desk assistance. Vacationers also appreciate luggage storage, elevator/lift, tour bookings, and free Wi-Fi in communal quarters. For those travelling on business, the audio-visual equipment, technology helpdesk, business centre, secretarial services, plus well-appointed meeting room come in handy.

Transportation
Hotel Ciutat Martorell is approximately 24 kilometres from Barcelona's airport while the train station is close by. Furthermore, those travelling by vehicle are privy to complimentary parking on the premises.
ゲストレビュー
自分の意見や感じたことを教えるためにはこちらをクリックしてください >>
予約する方法
Hotel Ciutat Martorellで予約するのが簡単で安全でございます。ご希望の日付を選択します。そして、フォームを送信するために「料金を確認し」というボタンをクリックします。 客室タイプと料金はお宅の画面に戻った後で、画面の中央にある部屋の情報を読むと画面の右側にある「予約する」というボタンをクリックすることによって希望の料金を選択することができます。希望の客室タイプを選択した後で、「ご予約を完了」というフォームに転送されます。その時に「滞在の詳細」を確認して、「ゲストの詳細」という部分の空欄でご自分の詳細のことを書きます。ご自分の名前とメールアドレスが正しく入力されていることを確認してください。 すべての重要な情報を記入した後で、「ご予約を完了」というボタンをクリックしてください。ご自分のセキュリティを確保するために、私たちがクレジットカード番号を暗号化し、非使用可能な形式にエンコードする安全なコマースサーバーを使います。
地域情報
空港

Barcelona, Spain (BCN-Barcelona Intl.)

- 14.62 mi

Reus, Spain (REU)

- 45.97 mi

Gerona, Spain (GRO-Costa Brava)

- 52.33 mi

ミュージアム

Monestir de Pedralbes Museum

- 11.52 mi

Cosmocaixa -Museo de la Ciencia

- 11.82 mi

Cosmo Caixa

- 11.83 mi

Indian-Amazonian Etnographic Museum

- 11.95 mi